I'm going to do breakdowns separately.
Schematically, both Sean Payton's offense and Rob Ryan's defense have a lot of ground to cover. The other half should be done tomorrow, so hang in there.
Starting off, this is a team 8th in total yards, and fourth in passing yards. They're a team that forces you to choices with pressure from every direction (3rd in sacks); but they can be soft (16th in rush yards, 24th in redzone TDs, and 20th in turnovers). They're an exotic set of moving fronts and bizarre matchups.
Ryan's 'base' defense is routinely written off as a 3-4. But they spend more time in nickel than they do anything else (62% of the time), and some analysts say that's part of the reason that Ryan's defense is 16th against the run and 28th in yards per attempt. To that end, however, he's also used some new tricks for stopping San Francisco recently.
The Saints struggled defensively to adapt to the zone read against the Jets. They gave up almost 200 yards rushing, a season high for the defense. So, against a similar quarterback in Colin Kaepernick, whose deep ball game has dried up a significant amount this season, the Saints came out in a stacked front.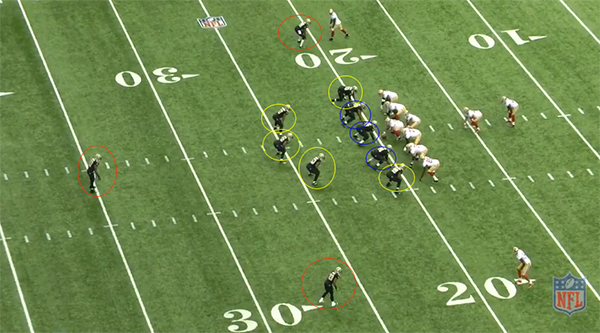 Call it a 5-3, 4-4, 3-5, whatever you want. They leave three DL on the field, and two OLB (though you could quibble since Junior Galette tends to have his hand in the dirt, that he's an end), and have three linebackers in formation. Not a safety walked up, or a linebacker moving up and back as if he were a safety. Three ILB just standing in two-point stances. So you can call it anything between a 3-5 and a 5-3, but it's tougher to run against. San Francisco rushed for a season-low 81 yards - not a dominating performance, but definitely bottling up Kaepernick and Frank Gore, the league's 7th ranked rush offense.

One interesting coaching note appears that when they go to the stacked defense, they play more two-gap with it.

Assuming you get Ben Hartsock, an excellent blocker, back at TE, one counter to that is to plop into 22 personnel, or even 32. Carolina's had some success there, but it's situationally relevant on non-short-yardage in this case against that defense. If they want to get big? Get bigger. Carolina can bring in Geoff Hangartner as one of the TEs, giving them 6 x 300 lbs; Hartsock is as good a run blocker as the linemen, giving seven; you have Greg Olsen as a competent wall-off guy. Put the adequate Richie Brockel in front of a back and just demoralize them a few times a game. The team has come up with good pass options from this set, and if nothing else, Olsen and a back can attempt to get open. The bootleg game gets better here; you don't get much option since it's stack against stack (not a lot of space).

Two TE has another advantage, in that you create more gaps to cover. Eight men now have to cover eight gaps. Those three ILB aren't as easily shielded. Is it that different from what the fullback provides you? Maybe not, but it gives you a better read on your zone blocks and less room for confusion against a funky front.


Of course, one way to make that less a factor as well, and setup more space inside/more one on one matchups, is to spread. Force them to react to what you're doing, instead of let them dictate. You can do that out of base (if you split the RB and Greg Olsen out, it's a 4 WR look), and since the Saints don't seem to split out a LB to cover a secondary receiver after a shift, you can use that to tell if it's man coverage. Alternately, they are more likely to trade out those ILBs and DTs when you trot two extra WR onto the field, and most teams just don't keep a box safety as much against spread.
As well, they play a more traditional 3-4 nickel set a good bit - splitting between the 3-3-5 (Junior Galette nearest the line) and the Dom Capers-style 2-4-5 (with two of the four obviously being rush OLB).  They actually throw a 6th DB on the field a good bit as well - about 40% of their non-base snaps involve a 6th DB, often split between backup safeties Rafael Bush and former starter Roman Harper.  They go into nickel for matchups, not just obvious pass situations, if they are choosing to not be exploited by a specific offensive weapon.




Schematically, their base 3-4 plays a lot of 'under', which leaves a lot of DL playing 4-3 type alignments. The weakside end is playing a 5-tech, which is typical in a 3-4, and there seems to be a nose tackle in every defense on the field every week.  But the other end plays a 3-technique often, which leaves a more typical spacing between he and the strong OLB.  In the trap, and zone read games, that makes for a bit easier running - you don't have the strong end and OLB in concurrent gaps. It doesn't hurt off-tackle and outside runs, either.  And Greg Olsen has done an above average job of crashing down on the strongside end - same for Brandon LaFell.

That crack inside leaves a significant opportunity to break contain, and if they're playing base defense instead of stacking, that leaves some open field.  Alternately, if the Saints are running a full 8-man front with the extra LB, it allows the pitch option to be read outside to the SLB instead of the end.  That's still a foreign concept for the NFL, but before the league adopted the zone reads or the triple option, the college game was already starting to read the DT.  Since then, essentially you can choose to read any box defender in college, and the same situation is in this concept - you simply wait for the next man to fill, this case being the SLB, and you keep or pitch based on his action.

Carolina hasn't run the outside option in a number of games so this has some potential.  Against the 5-3, clearly that's not as exceptional an option, though there's room for the packaged plays - allows for the playaction, allows another play for the line to runblock a soft middle, and it gives one on one matchups on the outside.  If you give Cam an option of Greg Olsen upfield, or a WR smoke route/slant - either one really - you have a numbers advantage outside.


Which might be an interesting thing to watch anyway.  Whether 3-4 or more exotic, the Saints play a lot of cover 3.  That leaves the CBs playing some man technique but dropping - and a lot of room to make things happen intermediately.   They take that a step further and play a lot of cover 1 (man with a free zone), but went further aganist Seattle. Russell Wilson beat the Saints' attempts at playing strict man - cover 0 - which is much more exotic, a look that Ryan chose to have pressure on Wilson, be able to stop the run, and that obviously burned him a few times.




Regardless of the front, Ryan has done a lot regarding stopping the run lately.  He's causing the young QBs to beat them deep, beat them in the air.  The playaction game has some validity in freezing the middle, and with a defense this eager to make something happen but low in turnovers, you can pump fake them into mistakes as well (Newton's PA game is top notch, but he's not often used the pump fake).    Russell Wilson was the benefactor of the run game situation, making plays downfield but also picking up 47 yards on the ground on half the carries it took Marshawn Lynch to get the same.  Wilson has the element of surprise on a few of those, of course, and the extra blocker/misdirection.

One thing that Carolina can't do, especially against the stacked front, is do a lot laterally.  It's tough running against 8 in seven gaps, but you set yourself up for ruin trying to beat five linebackers to the edge (though, enough counter action and you can still exploit it a bit backside).


Now, as for the personnel - despite their below average rush rating, this is a team built from inside out.  You don't just put up a wall and block the edge, you have to win your inside matchups.

They use a rotation at NT -  Broderick Bunkley is a good veteran runstopper, but still likely a good matchup in Carolina's favor for Ryan Kalil.   Backing him is the massive John Jenkins, the rookie from Georgia.  Jenkins is a guy they'll situationally use against the obvious run, and at a legitimate 350, he's a guy who requires attention.  If they pull Bunkley for a more pass heavy look, the undrafted Glenn Foster is the guy.  A more lean 6'4 285, the former Illini tackle provides some push and explosion, and also fills in at DE.

Cam Jordan is playing an excellent 5-tech end, and the unfortunately spelled Parys Haralson does the edge rushing outside him.  These aren't an easy duo for Travelle Wharton and Jordan Gross - I think Gross has the easier matchup, as Jordan has 9.5 sacks and is clearly the better player.  The team may shade toward that side and have Gross take on Jordan more, and let Wharton help out inside; Hartsock and Brockel have had some success in 1 on 1 pass blocks on the edge against lighter edge rushers, with Brockel doing a good job against San Francisco on the strong side.

Akiem Hicks is the other end, a massive 2012 3rd rounder that I liked coming out, whose projections were hard to figure as he spent his time in community college and at Canada's Regina University.  He's got 3.5 sacks, solid for an interior player, but his run technique isn't always great and he relies on his size often, so he can be moved.  If he's ever shaded inside, he's a good player to use to exploit the angle with Byron Bell.   He can overpower Nate Chandler on paper with good technique, but there are a ton of variables when talking about a pair of extremely raw first-year starters.  Hicks had 2.5 of his 3.5 sacks in the last three weeks.

The other edge rusher is Junior Galette, the better of the two OLB; he has 6 sacks.  Another first year starter, he's adequate at keeping contain, and stout enough at 258 lbs, but not as active in the run game. He's not an elite athlete, just a guy you keep in front of you.

Behind that, Curtis Lofton is a traditional thumper who leads the team in tackles.  The other ILB is the more versatile David Hawthorne, the more likely blitzer (3 sacks so far) who had 15 defensed passes and 7 INT in his three years as a Seahawk starter (09-11) before coming over.  His tackle stats aren't as gaudy but he's the more active cover guy.  He can go outside, as well - Haralson's snaps tend to be in the 3-4 more often, where Hawthorne will play more of an outside role at times in the nickel sets.

Ramon Humber is an undersized (5'11, 230) utility player that comes in at ILB for some nickel opportunities and to give more of a 4-3 WLB type presence.  He appears in the 2-4 nickel when Hawthorne plays outside more, to cover Haralson's coverage deficiencies.


Of course, it wouldn't be a Ryan defense without a wide array of players coming at the QB, either, and any team willing to go Cover 0 in the NFL can bring a DB.  17 different Saints have more than 20 pass rushes, including starting safeties Kenny Vaccaro and Malcolm Jenkins.  Jenkins has 2.5 sacks for his part in it; Vaccaro, the Saints' first rounder, has added a versatile, and sizeable, presence to the safety spot missing with Harper, and is second in tackles.

The corners get a lot of expectation with Ryan's intent to use man and man-technique disciplies on cover 1 and cover 3.  Keenan Lewis, the bigger corner, leads the team in INT with 3; he had 23 PD as a Steeler starter last season, though no INT.  He's allowing about a 50% completion percentage, and a QB rating that was in the low 50s (before Seattle).  He's a fairly sure tackler as well.

Corey White's the other guy - another physical bump and run type, in his second year out of Samford (where he was a safety part-time).  He's got size, but can be overmatched by big, physical receivers anyway.  Nickel is the vet Chris Carr, the 9 year product who played for both Ryans over time, who plays more against slot types but still loses a lot of time to Harper or Bush in situations.


Interesting that, the past week, though the Seahawks have played a lot of base offensive personnel, that the Saints got 47 scrimmage snaps out of their backup safeties (it appears Vaccaro was out for four snaps, if that's helpful), and ten out of Carr (Lewis missed 7 snaps).  That shows how much more the Saints use their backup safeties in nickel (this game for instance, Harper played more than 3:1 over Bush).  I don't think that will change much, as the Saints will likely throw a safety in the face of Greg Olsen all day.   Empirically, Harper plays more at times, but Bush started early in the season over both Harper and Vaccaro.

 Do with that what you will, Olsen won't always out-physical everyone but it might be a good time for the traditional post-up moves from the TE.   Olsen isn't always the safety valve, but it might be smart to keep the back(s) in and have Olsen be the hot read more often.


Schematically, the safety might or might not be an ideal matchup downfield for New Orleans, but they do have more ability with the run and more blitzing skill; it's also a better talent situation for New Orleans.  It would be interesting to see how willing the Saints would be to step a 4th corner on the field with enough spread, but you'd have to really do the most you could with just the five/six blockers.

You might also see a lot fewer guys put into patterns at times - block 8 guys, throw Olsen and two receivers into deeper patterns.   Not only does that potentially clear some room for Cam Newton to run, but it also helps exploit the Saints deep.  The Seahawks had a 60 yarder to TE Zach Miller and a 52 yarder to slot guy Doug Baldwin.  So there is room for deep stuff, and not just to the fastest guy.  If you give more time versus man, and more options to block the blitz, a well-timed 2 or 3 vertical route combo can give your QB time to look, and doesn't have to look off the safety.

Beating the blitz was the paramount reason that Wilson beat this defense and came out victorious.  Against 5+ rushers, Wilson as 8-9 for 170 and 2 scores, and 3-3 with a DB coming.  That's not to say that what the Seahawks did was extravagant, a lot of those passes were short.  But they were very prepared to beat the blitz and called the right plays at the right time.   Wilson spent a lot of those attempts against Cover 0, and beat it effectively.  Carolina has to be ready for man coverage and have good check plays against it. 


Even just base O versus base D, generically, you have a lot of traditional ways to beat cover 3; obviously a lot of them involve running off the corner with a deep route and putting a good receiver underneath, where a LB has to cover a quarter of the underneath;  you can use option routes with the single coverage (post/corner based on the CB's leverage/technique); you can also run a two-route combo under the corner's deep third, like the post/swing with the TE and RB; you can use two TE to that side to create other overloads.


This one could go either way.  Carolina offensively has struggled a bit with top defenses.  But this one takes more risks, plays to the pass; Carolina's strength is the run, but they'll have to pull defenders out of the box to do it.   You have to limit mistakes and play the team game here, so the game will be much more than just this matchup.   Offense tomorrow.